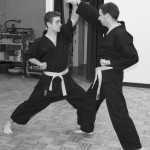 Class Attended:  Westminster Lodge – Basic Class
Instructor: Kevin Archibald
Date: 31/01/2013
Subjects covered:  Bushido version of Ten No Kata (awaiting an official name)
Drills used:
The kata was taught in sections, the offensive and defensive parts and practiced repeatedly at varying levels of speed, power and aggression. Then in partners the kata was practiced as ippon kumite; partners were rotated and further exercises were used to supplement.
How I would teach or improve in my class:
I loved this lesson. I would aim to teach it exactly like this. I think the level of how tiring and energetic it was, was bang on. I can see huge benefits to teaching this kata for all grades and the way it was taught made it easy to understand and remember. What I have been taught further on using my hips meant that though these are moves I have performed repeatedly, I still found it challenging and the tiring nature of the exercise was rewarding and the next day I could tell it had benefitted me physically.
Write-up by Richard Telford-Nicholson