Reach your full potential with Bushido Martial Arts!
We at the Bushido Hombu are passionate about our lifestyle and associated hobbies.  We therefore look to share these things through our association and provide the opportunity to make the same gains we have to as many people as possible.  We do this by creating a community based around our training practices that provides common ground for our members, no matter how diverse our lives and backgrounds are.  
It's also not all about the martial arts, yoga and krav maga though.  We enjoy social interactions, supporting each other's businesses and additional activities such as walks and bike rides.
When you join the Bushido Hombu you don't just join an exercise class, you become part of the club… a part of our community.
While we also provide instruction in Krav Maga, Yogic Arts and Tai Chi we also provide life coaching and exercise/diet advice along with having access to a network of therapists for Acupuncture, Bowen Therapy, Sports Massage, Chinese Massage, Osteopathy… and more.  Many with discounts associated with our clubs.
How to join…
We always require a trial session as we need to see Every community needs something to define it, for us we centre our ideals around the 8 virtues of bushido. This ancient Samurai Code forms the basis of our
ethos and provides a good reason for why you should consider joining us.
To achieve full life balance we offer a range of disciplines aligned with the 8 virtues, but with Karate being our core art, which when trained correctly will encompass all of these virtues to fully enhance your life.
Read more about our principle based learning here
The Spirit of Bushido's Virtues…
Every community needs something to define it, for us we centre our ideals around the 8 virtues of bushido.  This ancient Samurai Code forms the basis of our ethos and provides a good reason for why you should consider joining us.  To achieve full life balance we offer a range of disciplines aligned with the 8 virtues, but with Karate being our core art, which when trained correctly will encompass all of these virtues to fully enhance your life.
Read more about our principle based learning here
Personal / Corporate Training
Whether you wish to enhance your martial arts training with some 1-2-1 session, gain fitness through proven methods, focus your team through martial concepts, or improve your employees safety by employing our services to run a custom self defence course… please contact us to discuss our approach to your needs.  Contact us…
Treatment, Advice and Coaching
Both within the skillset of our instructors and our wider network we can help you find the right specialist for whatever you need.
Whether you are looking for acupuncture, massage or a coach to help you focus and attain your career objectives… we can probably help.  Contact us…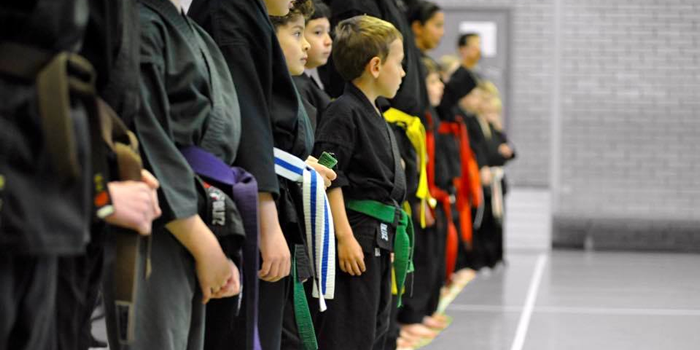 THE PHYSICAL BENEFITS: FLEXIBILITY, BALANCE, AND STRENGTH
GET FIT WHILE LEARNING MARTIAL ARTS
Learn self-defense, build confidence, and get in the best shape of your lives! Martial arts has tons of physical, mental and social benefits, suitable for anyone and everyone. Become part of something positive and learn new skills from trained martial arts professionals. It's easy to get started—Enroll in martial arts classes today!
THE LIFESTYLE BENEFITS: 
DISCIPLINE, FOCUS & CONFIDENCE!
BUILD CHARACTER AND LEADERSHIP QUALITIES
Martial arts classes benefit growing children far beyond the dojo and in many real-world scenarios. Our structured classes are meant to help develop coordination, physical fitness, mental strength, as well as gain valuable social skills. Through positive reinforcement, we can bring out the best in your children to help them succeed in life.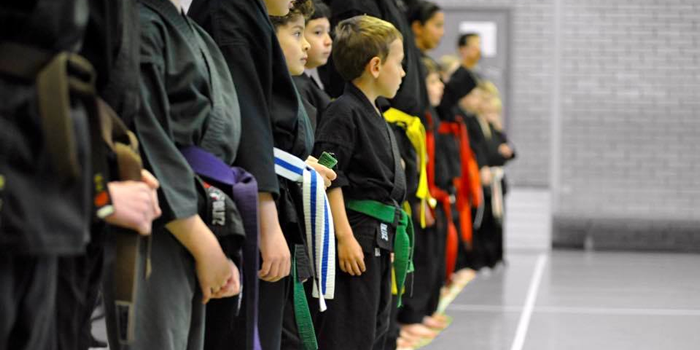 REQUEST INFORMATION
ACCESS OUR SCHEDULE & SPECIAL WEB OFFER!
Get started today with our EXCLUSIVE offer of a free month when you join up in September!  Get started today with our EXCLUSIVE web offer!  Contact us and mention the codeword "Yanagi" for your first month's fee to be free!
Complete the online Trial Membership Form stipulating your desired training session this week to get training!
My son joined the club as he had suffered enormously with bullying at his school, and we wanted him to rebuild his confidence and feel he could move forward to control his own situation.
I have been very pleased at how Kevin and his team of instructors allow and encourage members to progress at their pace. This club is not focused on how quickly you can progress through belts, the focus is on mastering and maintaining good skills.
Bushido-Hombu is the ideal club for us as a family with children moving up through primary school.
Kevin strikes the right balance between making training fun, learning the martial arts and discipline. All the right ingredients to make for a fantastic club.
I have been training weekly with Kevin on a one-to-one basis for around two-and-a-half years.  The nature of private sessions means that I enjoy an extremely tailored approach to learning karate, and allows a more in-depth exploration of the theory and application of techniques that might otherwise be impossible in a class setting.
Bushido Hombu is a very professional outfit and is very well organised and run. The focus is always on quality tuition and training, and we have never felt that Kevin is running the school as a business.
I trained with Kevin Archibald for almost two years and Monday nights were always a highlight of my week. Being a physiotherapist I can say that Kevin's knowledge about the body and how to train it combined with the huge background about Karate was a perfect base for the class.
Kevin never only taught movements he also transported the spirit of what Karate is about. Thanks for the time, I am still searching for a class here in Germany that is as good as Bushido Hombu - I have tried three by now. Still haven't found the right one.
Great family friendly club, that teaches you the right way. Not for profit which means its run for the love of Karate and not as a money making scheme.......very refreshing.
I am a father of 2 children training at Kevin Archibald's Bushido Karate session on a Monday afternoon/evening and I am amazed how well they are doing and how quick that they have picked up on there moves and there concentration, I am sure its not just the Karate sessions and more to do with the entertainment from the trainers and the patience that they have with the children.
Kevin is a highly dedicated Sensei who strives to deliver the best and safest training in all his classes. His approach is to help every person who trains to achieve their goals and instil a confidence in them to be the best they can be.
Through Kevin's extensive knowledge and helpful training he helped me achieve a greater understanding and discipline in my Karate which also has a positive impact upon my life outside of karate.
There is a great friendly atmosphere in the classes. The lessons are fun and energetic, content is varied from working on syllabus to improving specific techniques.
I'm very pleased that for my path to learning karate I found and joined this club. It's a great opportunity to learn from the best. Kevin is very friendly to all his students and colleagues but at the same time radiates authority especially through being respectful to everyone and his display of top form and skill. He treats everyone as equal and equally and promotes the same behaviour in his students.
Very fresh and functional approach to a traditional Japanese martial art.  Highly qualified Instructors who always teach to high standards with amazing enthusiasm. Even with rising amount of members safety is and always was a number one priority.
Kevin Archibald is a rare and exceptional instructor; his martial arts knowledge and competence are phenomenal and he produces students of the highest calibre.
He is a pleasure to know and train with. I find his teaching skills to be of a very high and unique standard. Kevin's knowledge is of extremely high quality and he runs classes to suit ability and convenience for e.g family classes, advanced classes as well as in depth seminars.
Kevin is a great teacher, his knowledge and professionalism is second to none. The classes are well structured and all material is easily digestible.I have learnt much under his instruction.
Throughout my time training with Kevin, I have been supported far beyond what I would expect of any ordinary club, being given the opportunity to excel through the instructor training program. Having been given, through this program, an insight into the administration and running of the club, I can attest that Kevin scrupulously ensures the safety of every student whether it be by continuously ensuring instructors are up to date on first aid qualifications, or through the creation of the child protection policy.
Kevin provides Karate instruction suited to his pupils, providing a positive learning environment and without restricting the class to dogma. Kevin sets a high standard and applies these fairly. He always offers helpful advice and real opportunities to learn by attending extra classes and seminars for example. Kevin leads by example, raising the level of his students appropriately.
As 5th Dan Karate Instructor and International  Director of a well respected Karate Organisation I have no hesitation in recommending Kevin Archibald for a high level of accreditation.
Kevin is very knowledgeable in his Karate and very patient and understanding as an Instructor with a 'more than capable' set of physical attributes to match. He is of a trustworthy and honourable character and is well respected in his community and amongst his Seniors and Peers. He continues to selflessly pursue his love for Martial Arts, sharing without a second thought the knowledge that he has gained over many, many years. At every opportunity he offers help to others including myself and it is with great pride that I write this reference.
I have known Kevin Archibald for over 20 years now and I would say he is a balanced, intelligent and well rounded Karate practitioner and Teacher. He has solid roots in a well respected Karate background going back to his Childhood. In 1996 I trained extensively with Kevin in Luton, at the Japan Karate Association United Kingdom. At this time he was a Black Belt Instructor, with his own club teaching Shotokan Karate.
Teaching takes place in a relaxed but controlled environment where all students can train safely and develop their confidence, technique and fitness. Sensei Kevin puts the development and needs of every member of the club first, he is always supporting members in every aspect of their training and goes out of his way to encourage additional learning and development for all of his students.
I have been training with Bushido Hombu under Kevin Archibald for 20 years, coming from a traditional Shotokan background. Since joining the association my training has improved no end, Kevin has opened my eyes to a whole new mind set to the way I train and the potential I can attain.
Artwork by Chris Bloomfield
Home
Special Offers
Prices and Costs
Members' area
Our Instructors
Timetable
Locations
Galleries
Blog/Articles
Contact Us