Assistant Instructor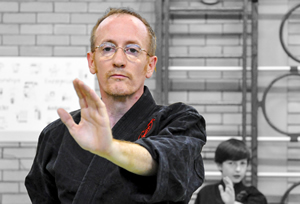 Jim came late in life to Karate, although as a student he briefly trained in Ju-Jitsu and learned some basic self-defence locks and throwing techniques. With his wife and two children training in martial arts at Bushido, Jim is now enjoying a shared family activity with the benefits of physical health and continued mental learning. He also sees being an Assistant Instructor at Bushido as a way to help those on the same journey and hopes it will be a way to deepen his own understanding of Karate.
Whilst studying for his PhD in American abstract art, Jim travelled extensively across the United States, researching at the Smithsonian Institute and all the major art galleries and museums. Since then he has worked in the arts and charity sector and is currently the CEO of an arts venue with library in Holborn.
Outside of work and the dojo, Jim enjoys walking, reading, thinking and listening to blues, jazz, reggae and rock.