Assistant Instructor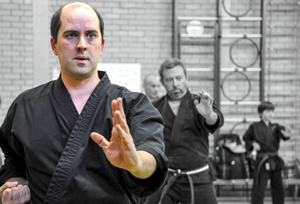 Alex interest in martial arts started in his early teens when he joined a local Tang Soo Do (Korean Karate) club. After he finished school he spent more time immersing himself in martial arts training, initially Yang Style Tai Chi and later on Shaolin Kung Fu. He pursued this training throughout his twenties and it eventually led him to train in China at the birthplace of Kung fu – Shaolin Temple.
Setting up his own Traditional Chinese Medicine and Acupuncture practice and starting a family kept Alex from training for many years. However, he wanted to introduce his children to the benefits of martial arts and started training at Bushido Hombu.
"Karate at Bushido reignited the passion for martial arts I had when I was younger. I now have the perfect opportunity to further my training as well as sharing the journey with my two boys. I couldn't be happier."
Alex has studied a variety of styles of Kung Fu, and Tai Chi over the years as well as Jujitsu and Won Hwa Do. He tries to bring experience and a different perspective to his karate training.